22 Best Thanksgiving Movies of All Time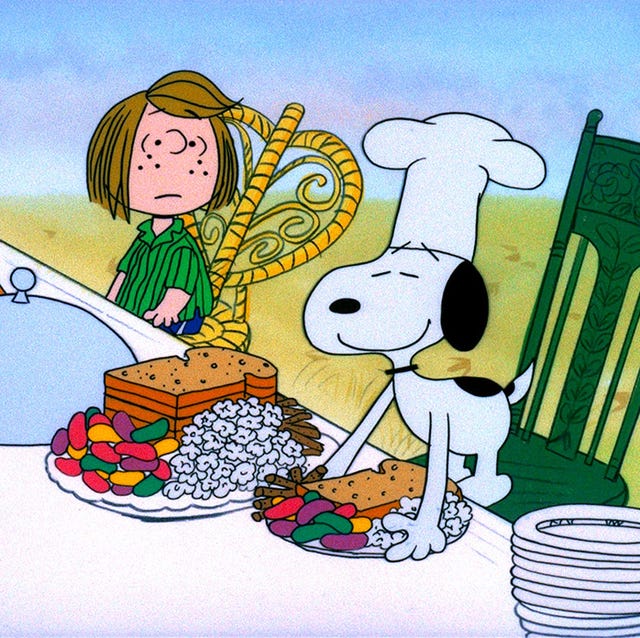 Getty Images
Thanksgiving is the biggest travel day in America, and for good reason: Thousands flock to be with birth families and families of choice, to share a meal, some old stories, and maybe a little drama. What better way to partake of these tales than around the dinner table, followed by crowding the television for that great American pastime: the Hollywood crowd-pleaser? Although the T-Day movie isn't as storied a tradition as the Christmas classic or the summer blockbuster, you'll be surprised to find an abundance of turkeys in classic films and cult comedies alike. Ahead, some of our favorite Thanksgiving stories on the big screen.
Advertisement – Continue Reading Below
1
A Charlie Brown Thanksgiving (1973)
While not quite as well known as Charlie Brown's Christmas or Halloween specials, this chapter in the lovable loser's saga is just as charming. Peppermint Patty invites herself, Marcie, and the whole gang over to Charlie's for Thanksgiving, where they contemplate the meaning of gratitude. A full meal appears but no parents seem to be involved. The magic of the holidays!
4
Addams Family Values (1993)
8
Home for the Holidays (1995)
13
For Your Consideration (2006)
14
Paul Blart: Mall Cop (2009)
15
Pieces of April (2003)
16
Planes, Trains and Automobiles (1987)
19
Scent of a Woman (1992)
20
Miracle on 34th Street (1947)
22
Mistress America (2015)
Advertisement – Continue Reading Below