Arsenal vs Manchester United: How will Casemiro suspension impact visitors? How will Erik ten Hag adjust tactics? | Football News
Casemiro will be suspended for Manchester United's trip to Premier League leaders Arsenal on Sunday.
The Brazilian midfielder – who has emerged as a key player for Erik ten Hag's side since joining from Real Madrid in August – picked up his fifth yellow card of the season on Wednesday night against Crystal Palace.
He fouled Wilfried Zaha in the 80th minute to protect United's 1-0 lead, before Michael Olise's spectacular free-kick ultimately levelled the scores in stoppage time.

Sunday 22nd January 4:00pm


Kick off 4:30pm

Having helped transform Man Utd since his first Premier League start in October, Sky Sports looks at the potential significance of his loss.
They've done it before…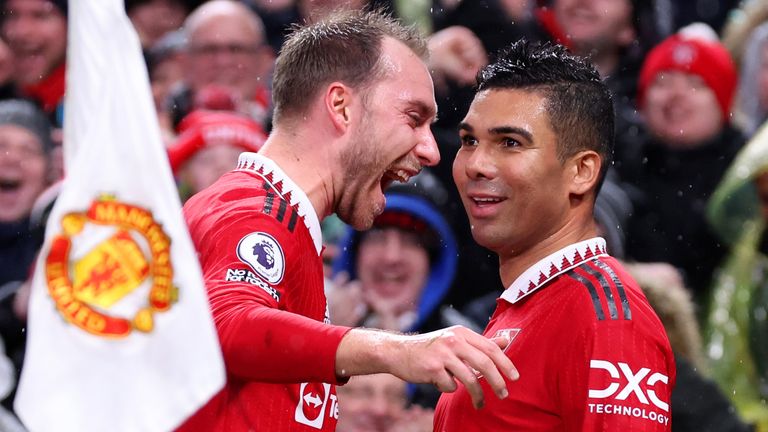 Man Utd boss Ten Hag is confident his side can beat Arsenal without their summer signing from Real Madrid, pointing out they did so in the reverse fixture this season, a 3-1 victory at Old Trafford.
United remain the only side to have beaten the Gunners in the Premier League this season and Ten Hag has told his players it is up to them to make up for Casemiro's absence.
"Casemiro is a really important player for us, and one of the reasons we are in the [good] position we are in now," the Dutchman told the club's official website.
FREE TO WATCH: Highlights from the 1-1 draw between Crystal Palace and Manchester United

"But the last time we beat Arsenal we did it without Casemiro, so we have the squad to make a plan to beat Arsenal."
Reacting to Casemiro's challenge on Zaha, Ten Hag told Sky Sports: "I think it's instinctive, he went for the ball.
"He missed the ball but it's quite clear, on our right side, it could have been a dangerous situation. He wants to stop it. That was his reaction, it was quite clear.
"Last time we beat Arsenal without Casemiro, so this time we have to do the same."
… But with and without stats make grim reading
Looking at Man Utd's displays without the Brazilian suggests that they do struggle in his absence – certainly from a defensive perspective.
Without him, United have less possession, ship more than twice as many goals per game and win fewer matches and points.
'Casemiro was fortunate to avoid red card'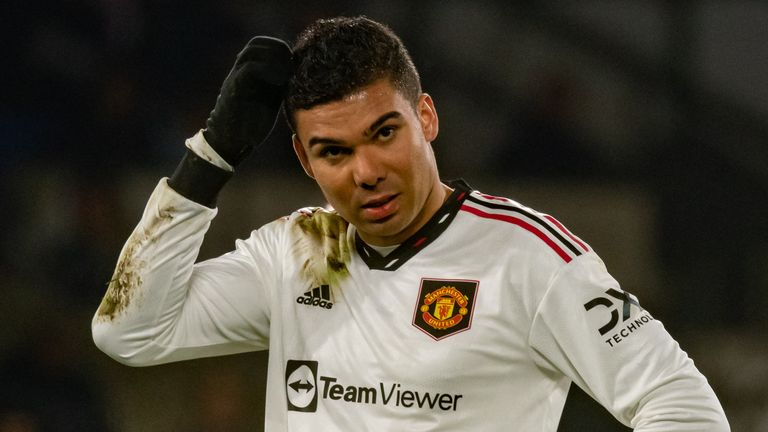 Sky Sports' Gary Neville:
"Casemiro getting booked ahead of Sunday against Crystal Palace is a massive blow because he's been pivotal to them. Erik ten Hag was shaking his head when the yellow card came out and so was I at home.
"I didn't buy into the idea before that game that Casemiro would be rested. I thought he had to play because Palace are too good a team. He is so important, and it wasn't a great challenge either to be fair.
"It could've been nearer to a red than a yellow, but it happens. Manchester United have to pick it up for Arsenal as they're in really good form. It is a blip for United but four points before the Manchester derby I'd have said 'no problem'.
"Having won the derby and then been up 1-0 in the 90th minute, it's just disappointing."
How can Man Utd beat Arsenal without Casemiro?
Manchester United manager Erik ten Hag says his side will have to learn lessons from the 1-1 draw with Crystal Palace

Sky Sports' Gary Neville:
"They beat them without Casemiro last time but they're going to have to be at their best. They're going to have to defend well – particularly in the first half an hour.
"Arsenal are electric – but they don't have a great bench. So if they can get through the first period of the game, they will be confident in what they'll then face later in the game.
"Arsenal had a similar problem against Newcastle when they defended well [in the recent 0-0 draw]. Arsenal are huge favourites for the game now with Casemiro out, so United have to hang in there in the first part of the game, build confidence and be dangerous on the counter-attack.
"Arsenal are in great form, but it will come down to whether they have a big enough squad to cope with all that comes with being in a title race.
Substitute to talisman
Casemiro fouls Zaha during Wednesday's draw at Crystal Palace and will now miss Sunday's crunch match at Arsenal

Casemiro struggled initially to break into Man Utd's first team.
The Brazilian arrived at Old Trafford on August 22 but, having watched his new club beat Liverpool from the stands, made just four substitute appearances in his first six weeks in the Premier League.
He had to wait until October 9 for his first start against Everton, after which he has been ever-present.
Gary Neville says the priority for any new owners of Manchester United has to be results on the pitch and says the club have to be at their best to beat Arsenal this Sunday

The 30-year-old's influence is clear – in the 12 league matches he has started, United have earned 2.25 points per game and conceded a total of eight goals at a rate of fewer than one per game (0.67).
In contrast, Ten Hag's team managed 1.71 points per game in the seven matches before Casemiro broke into the team, and conceded 14 goals at an average of two per game.
The five-time Champions League winner has brought tenacity to United's midfield, according to official Premier League data.
Despite missing the early part of the season, Casemiro ranks fourth among all players for successful tackles (53) and joint-fifth for fouls committed (30).
Team game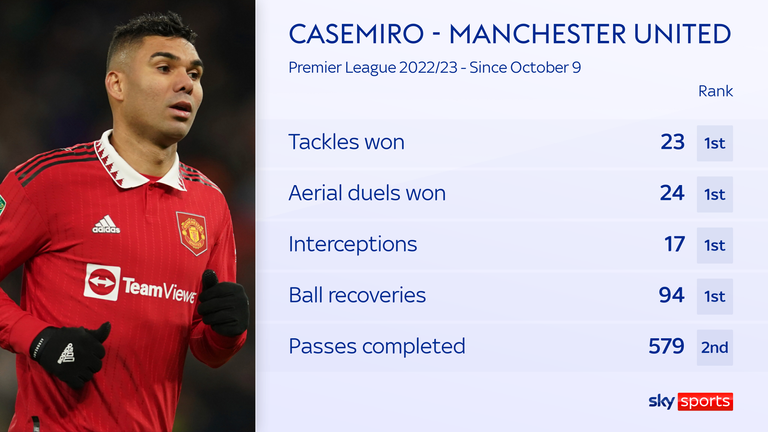 Ten Hag played down the significance of Casemiro's absence after the Crystal Palace match, with the Brazilian having made only a cameo appearance from the bench when United beat Arsenal 3-1 at Old Trafford in September – their only league defeat to date.
Scott McTominay played alongside Christian Eriksen with Bruno Fernandes floating ahead of that pair – but Arsenal were also missing Thomas Partey, their midfield figurehead, as Albert Sambi Lokonga made one of just two starts this season.
United's win at Old Trafford was arguably against the run of play, with Mikel Arteta's side outshooting the Red Devils by 16 to 10 despite being on the end of a 3-1 loss.
This was a regular theme in the opening weeks of the campaign – United had fewer shots than their opponents in five of their first seven league games, none of which Casemiro started.
In contrast, they have equalled or bettered their opponents' shot tally in all 12 games since, with the former Real Madrid man in the team.
Redknapp: Arteta is dancing round his living room!
Jamie Redknapp says Casemiro's booking and subsequent suspension for Sunday's trip to Arsenal was a 'moment of madness'

Sky Sports' Jamie Redknapp:
"We said before the game about Casemiro: Don't get a yellow card, don't get booked. As it's so important that they need him on Sunday. He gets booked in the 80th minute and from that moment, it took the steam out of Manchester United.
"It affected them so much. They knew their talisman and their most important player in that defensive unit was gone. It was a bit of a moment of madness.
"He was furious with his team-mate Bruno Fernandes who jumped out of a challenge and that's why he ended up with a booking. It could have even been a red card. It's a scandalous challenge.
"I could just see Mikel Arteta dancing around his living room. They have no one who can do what he does in the team. It's a reckless challenge, reckless.
"As a player in that position, all his life and all his career he has been making those tackles. He knows he has to get booked sometimes and it was just instinct – it's all he knows how to do. He can't help himself. He's thinking of the team. He doesn't want to make this challenge because the consequences are so big.
Mark Bosnich says Arsenal will not view Sunday's clash with Manchester United as a potential title-decider, but simply as a 'stepping stone' in the title race.

"He was furious there with his player. He had to bring Zaha down as he doesn't want the other team to score. It's just instinct.
"He's so important. It looks like they'll have to bring in either Fred or Scott McTominay [on Sunday].
"If you look at Arsenal at the moment, with Martin Odegaard, Thomas Partey and Granit Xhaka – that midfield is functioning so well. I can only see it benefitting Arsenal in such a huge way. They have got so much confidence right now and it makes red hot favourites.
"He is one of the most important midfield players not just at United but in the Premier League, certain teams function so well when they have certain individuals. He senses danger and they're going to miss him so much with what he brings to the team. Arsenal? It's exactly what they wanted to see today and it's big news for them."
Watch Arsenal vs Man Utd live on Sky Sports Premier League on Sunday from 4pm; kick-off 4.30pm.