Boy spent 4 days in ICU after being bitten by water moccasin in Florida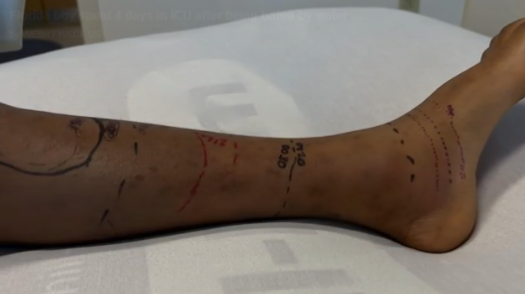 A Florida boy spent four days in the intensive care unit after being bitten by a venomous snake.According to News4Jax, the 7-year-old Clay County boy nearly died after the incident.Elijah and his mom said it happened outside their Green Cove Springs home on June 3."I was in the backyard playing and I was going to pick up a rock and the snake jumped out and bit me," he said.The boy was rushed to Wolfson Children's Hospital, where he spent a full week."He had seven bags of antivenom. He had to get a feeding tube. He didn't eat for four days," mother Sanita Bustamante said.The boy is still undergoing physical therapy and is not able to walk yet.It took doctors some time to determine what kind of snake it was that bit Elijah. "He said it was dark gray with dark spots and a fat head. A lot of the doctors went on their phones and pulled up different ones and every time he picked out one it ended up being the water moccasin snake," Bustamante said.Florida's Poison Control Center urges anyone bitten by a snake to get medical care immediately. "Please don't ice where the snake has bitten," Spokesperson Mike McCormick said. "Please don't try to capture the snake. If it's safe to do so and you can get a picture, that's OK, but please don't try to capture them. Please don't try to cut the wound and suck the venom out."
CLAY COUNTY, Fla. (Video by WJXT via CNN) —
A Florida boy spent four days in the intensive care unit after being bitten by a venomous snake.
According to News4Jax, the 7-year-old Clay County boy nearly died after the incident.
Elijah and his mom said it happened outside their Green Cove Springs home on June 3.
"I was in the backyard playing and I was going to pick up a rock and the snake jumped out and bit me," he said.
The boy was rushed to Wolfson Children's Hospital, where he spent a full week.
"He had seven bags of antivenom. He had to get a feeding tube. He didn't eat for four days," mother Sanita Bustamante said.
The boy is still undergoing physical therapy and is not able to walk yet.
It took doctors some time to determine what kind of snake it was that bit Elijah.
"He said it was dark gray with dark spots and a fat head. A lot of the doctors went on their phones and pulled up different ones and every time he picked out one it ended up being the water moccasin snake," Bustamante said.
Florida's Poison Control Center urges anyone bitten by a snake to get medical care immediately.
"Please don't ice where the snake has bitten," Spokesperson Mike McCormick said. "Please don't try to capture the snake. If it's safe to do so and you can get a picture, that's OK, but please don't try to capture them. Please don't try to cut the wound and suck the venom out."