Counterpoint: 96 million smartphones sold globally in May
According to Counterpoint Research's Market Pulse Service, global smartphone sales declined to 96 million units in May. The figure represents a 4% decline compared to April and a 10% fall against the figures from May 2021. The noteworthy bit is that this is only the second time in the last ten years that the figure has dropped below 100 million units for the period.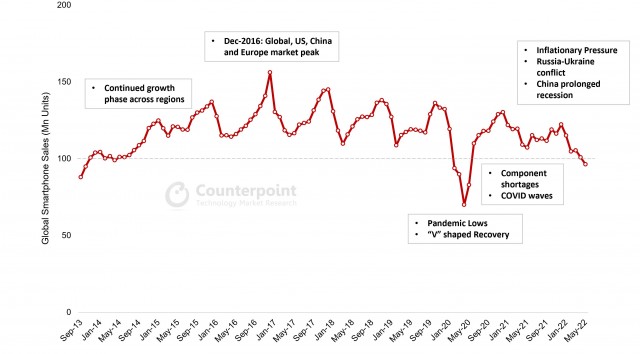 Counterpoint Research Monthly Market Pulse – May 2022
The 96 million is the second consecutive monthly decline and an eleventh straight month of yearly sales decline. Despite the strong rebound after the initial COVID-19 wave in 2020, smartphone sales are still not back to pre-pandemic levels. The ongoing supply chain issues are stabilizing though rising inflation levels coupled with factory slowdowns in China and the Ukraine crisis are the main factors limiting smartphone demand.
Due to the lowered demand, smartphone vendors are experiencing inventory build-up which is expected to show its toll in the Q2 smartphone shipments data. Looking ahead Counterpoint analysts predict the situation to improve in H2 as supply chains normalize and factories in China operate at full levels.