Why Charli D'Amelio & Mark Ballas' DWTS Season 31 Win Was Inspiring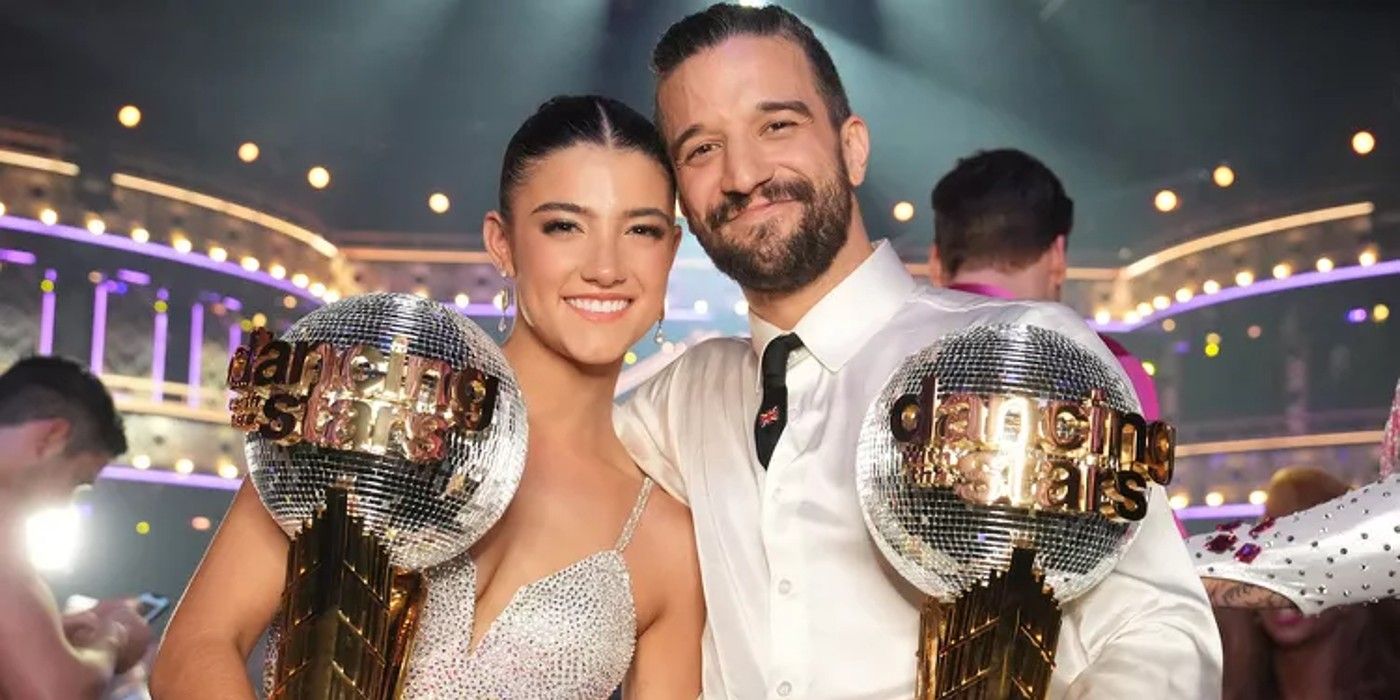 Dancing With The Stars season 31 champions Charli D'Amelio and Mark Ballas were the favorites to win the competition as they placed first on the leaderboard every week, but their success was still inspiring because of what their journeys on the show meant to them. Mark had been absent from the ballroom for five years before he agreed to come back to the show to dance with 18-year-old TikTok star Charli. They had an immediate big brother/little sister connection, which helped them to form a bond that translated into their dances. Their mutual admiration and trust led them to earn perfect scores for six of their dances, including the last three weeks in a row.
There were many inspiring stories on DWTS season 31, including those of Selma Blair, who has multiple sclerosis and Daniel Durant, who is deaf. In addition, Charli's mom, Heidi D'Amelio and Trevor Donovan overcame their lack of confidence in their dance abilities and rose to the top of the leaderboard. Also, Shangela broke ground as the first drag performer to grace the DWTS stage with her presence. So how can two frontrunners who have incredible dance talent such as Charli and Mark winning the competition be so inspiring?
Related: Why Mark Admitting His Mistake To Defend Charli Was Sweetest DWTS Moment
Charli D'Amelio & Mark Ballas Created Beautiful Dance Masterpieces
Charli and Mark inspired the DWTS audience with their beautiful dances. Mark has always been an innovator in the ballroom, but in season 31, he took his choreography to another level. He challenged Charli and pushed her to new heights. Their mesmerizing DWTS Halloween Night Argentine tango to "Tanguera" was a mind-blowing example of this, as they blew everyone away with moves from Mark's extraordinary mind. During their jazz routine to The Simpsons theme song, in which they danced in full Homer and Marge costumes and make-up, they showed a more playful side. Mark helped Charli to master every dance style, as evidenced by their perfect scores for their semi-final Viennese waltz to "Glimpse of Us" and their paso doble to "España Cañí."
Charli D'Amelio & Mark Ballas Overcame Obstacles
Although they made their DWTS journey appear effortless, both Charli and Mark had some obstacles to overcome during season 31. Charli spoke candidly about her battle with anxiety, which Mark transformed into a moving contemporary dance to "when the party's over." As he played the role of anxiety fighting to take over Charli's mind and body, the audience gained a new understanding of mental health through this work of art. During week 7, Mark and Charli lost some rehearsal time together due to a flare up of Mark's lower back. As a result, Charli had to practice with professional dancer Pasha Pashkov. Finally, at 36 years old, Mark was twice Charli's age, but he was respectful of her. He made their routines age appropriate and keep her comfortable in a very physical art form.
Charli D'Amelio & Mark Ballas Fell In Love With Dance Again
On the DWTS finale, both Charli and Mark revealed that they had fallen out of love with the art form of dance. Charli shared that online critics had discouraged her, so she stopped her dance training. However, she said that dancing during DWTS season 31 made her feel the happiest and most herself that she has ever felt. Mark admitted that he left the show five years ago because he was not sure if he loved it anymore. Both Charli and Mark have now rediscovered their passion and fallen back in love with dance again. They illustrated this through their joyous freestyle to "Us Again," which celebrated their journey back to their love of dance. As they moved through different styles of dance, they not only showed off their perfect dance techniques, but their emotional experience. They were free and happy and on their way to winning DWTS.
Charli and Mark inspired people by showing them how to find themselves again by reviving a passion that they thought was lost for good. Their DWTS path might have seemed destined for the win, but their story was about so much more than the Mirrorball Trophy. They left the competition with a newfound sense of self that was rooted in the rediscovery of an old passion. They are perhaps the greatest partnership in the history of the show, and they have set a very high bar for all future Dancing With The Stars seasons.
More: How DWTS Pair Trevor Donovan & Emma Slater's Connection Has Grown
Source: Charli D'Amelio/YouTube, Charli D'Amelio/YouTube, Charli D'Amelio/YouTube